Indian bridal couture has a rich history of traditional and varied bridal lehengas. Designers have tried to emulate these fascinating apparels over the years with certain modifications and alterations. So, any bridal lehenga a bride chooses, will undoubtedly be an amalgamation of modern silhouettes and cultural ingredients.
With so many options, in terms of colors, fabrics, styles, and craftsmanship, to choose from, choosing a bridal lehenga for the D day is undoubtedly going to be a major dilemma. Don't you worry though. We've got you covered. Read on to discover the latest trends in bridal lehenga cholis that will help you make the right choice.
You can rest assured knowing that these bridal lehengas will ensure the party won't start until you walk in!

LATEST TRENDING BRIDAL LEHENGA DESIGNS IN 2021
Self Colour Thread Work Bridal Lehengas
Raw Silk Bridal Lehenga
Velvet Bridal Lehenga
Banarasi Bridal Lehenga
Zardozi Bridal Lehenga
Thread Work Bridal Lehenga
Contrast Embroidery Bridal Lehenga
Applique Work Bridal Lehenga
Lace Work Bridal Lehenga
Floral Sheer Printed Bridal Lehenga
Unique Motif Embroidery Bridal Lehenga
Gota Patti Bridal Lehenga
Ombre Bridal Lehenga
Brocade Bridal Lehenga
Net Bridal Lehenga
Tissue Bridal Lehenga
Double Border Bridal Lehenga
Self Colour Thread Work Bridal Lehenga
Self-Colour Thread Work Lehengas are trending these days. Particularly after Priyanka Chopra wore a red-on-red at her wedding. Since then, many Instagram influencers have opted for this style either at their wedding or for an event.
Tips And Reasons For Opting A Self-Colour Thread Work Lehenga.
The neatness of thread work on the net imparts an element of elegance to the dress. However, before buying, look out for the finish of intricate details. Either purchase it from a designer or look for a local shop that is incredibly dedicated to designing various types of bridal lehenga. Otherwise, the threadwork will cast a ripped image that you'd never want.
Raw Silk Bridal Lehenga
Designers swear by the Raw Silk Lehenga for its comfortable texture, fascinating look, and elegance. Add to it an irresistible flare and you've got a winner! After-all, is a lehenga worth its salt without a gorgeous flare? Not at all! You can wear this raw silk design as bridal attire as well as on your reception.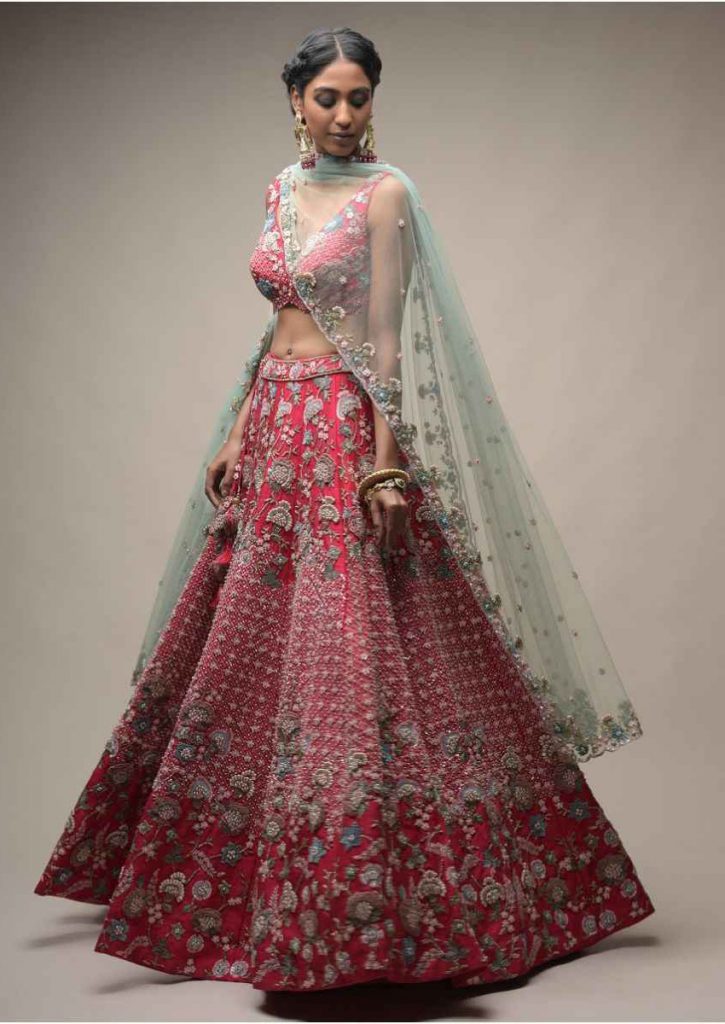 Velvet Bridal Lehenga
Velvet is synonymous with grace. Even if you wear an unembellished velvet ensemble, it still exudes gracefulness and makes you stand out from the crowd. Authentic velvet has a shiny, soft texture, which looks classy even without embroidery.
Tips To Wear A Velvet Bridal Lehenga
You need to be careful with Velvet bridal lehengas. Don't over do it by adding heavy motifs and embellishments. Go for a minimalistic design approach and ensure that the positioning of the work is done correctly and you're sorted. Since it is already a tad bit heavier than other types of bridal lehenga, adding a lot of work will be difficult to carrys. Believe us, you certainly don't want to be buried under the weight of your bridal dress on your big day.
Banarsi Bridal Lehenga
"Banarsi lehengas" are an epitome of elan and opulence. Beautiful gold and silver threads are woven on a silk fabric, which gives it a royal demeanour. Plus, they are very lightweight and comfortable, which gives this lehenga type additional bonus points. The bride and bridesmaids can also consider opting for a Banarsi saree, which is equally majestic in our opinion.
Zardozi Bridal Lehenga
The word Zarr means Gold in persian. Zardozi lehengas are embroidered with golden thread, hence the name. It involves extremely intricate craftsmanship, and takes a lot of time and effort to create.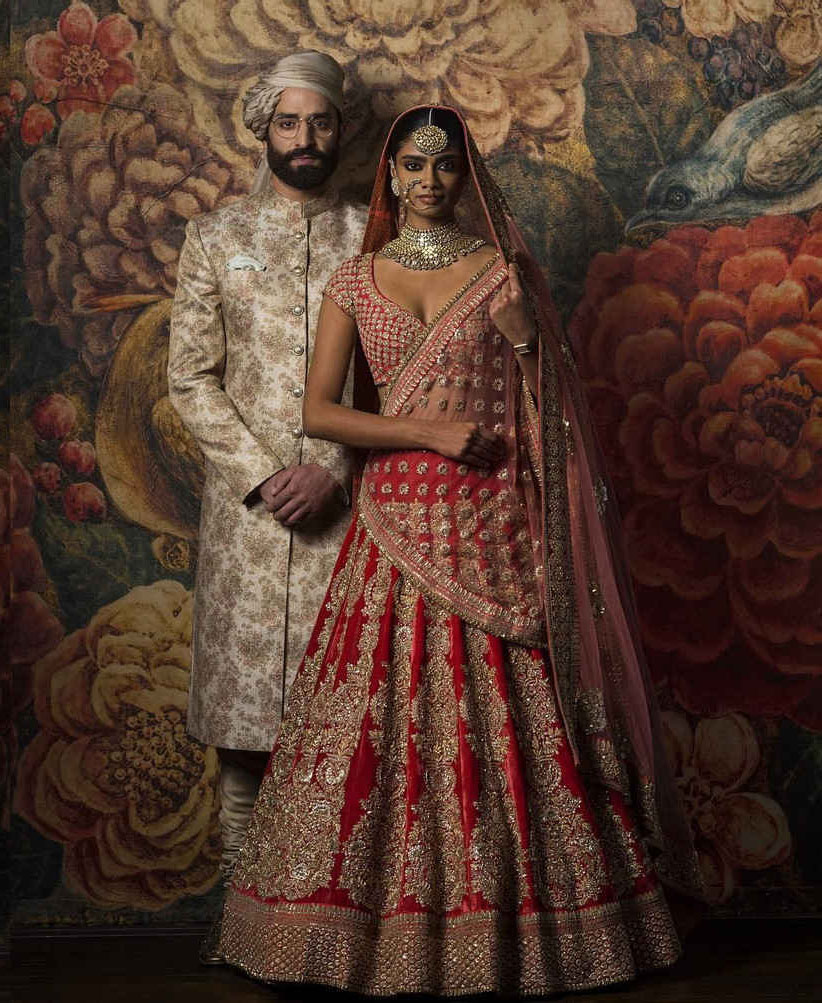 Zardozi Fabric and Colour
The embroidery is usually done on the silk fabric, organza, the Jamawar, and brocade. Usually all designs employ bright colors—for example, blood red, orange, maroon, or golden. However, Zardozi also looks ravishing on white or light hues. Ultimately, you need to pick a color keeping in mind your skin type and body shape.
Thread Work Bridal Lehenga
Choose one: Style? Or Comfort? *Why not both?*
With Thread Work Bridal Lehengas, you can enjoy the best of both worlds, sc. style and comfort. Exceptionally feminine, this attire is suitable for all women, irrespective of their height or weight. Be it a frail bridesmaid or your chubby best friend; anyone can pull it off with equal grace and elegance.
Styling Tips For Thread Work Bridal Lehenga
Elaborate detailing of thread work is the main highlight of this bridal lehenga. Buying from a store that has ample experience with bridal lehengas will ensure that the detailing is high quality. Remember, cheap is not always better. Even though you're seldom going to wear your wedding lehenga after the big day, your lehenga needs to embody splendor and elan in order to stand out from the crowd.
Contrast Embroidery Bridal Lehenga
Contrast Embroidery lehengas are usually reserved for grand Mehendi nights. However, it's not something carved on stone
Why Should You Choose A Contrast Embroidery Lehenga over other types of lehengas?
If self-colours look bland and unappealing to you, and you want to look glamorous then opt for a contrast embroidery lehenga. An example of how to pair this lehenga type for maximum effect is to match a silver choli with blood-red lehenga or a gold choli with deep red lehenga. You can also don a different dupatta to add a shade of modernity to it.
Applique Work Bridal Lehenga
The subtle simplicity, and aesthetic delicacy of Applique work makes it a worthy contender in our list of the best types of bridal lehengas you can wear on your wedding. We recommend that you go with soothing prints, contrasting border embellishments and intricate applique work all over.
Styling Tips for Applique Work Bridal Lehenga
Applique work lehengas usually involve embroidered patches on top of any existing fabric to give it a 3D look. There are no specific norms for patches; it can be of any size, shape or design.
Lace-Work Bridal Lehenga
Adding lace work to your bridal lehenga will add an element of dynamism to it. Some might say that this particular type of bridal lehenga was fashionable in the 1950s but we believe if you can carry it off, it can look as exciting as any other kind of lehenga. You can also redesign your mother's wedding dress/gown and give them a new lease of life with a few modifications. In fact, Lace-work bridal lehengas are back in vogue again because of its comfort and elegance. Plus, a Lace-work lehenga has the potential to make a boring lehenga look flamboyant and zestful.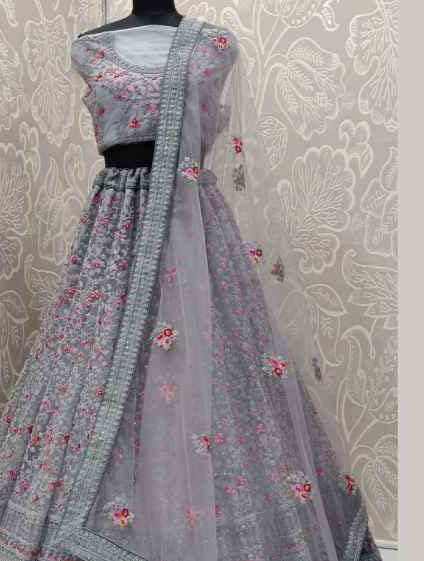 Floral Sheer Printed Bridal Lehenga
Floral embroidery lehengas are massively popular with the new generation.
Why is everyone head over heels for Floral Sheer Printed Lehengas?
The reason why an increasing number of brides opt for this type of bridal lehenga is due to the availability of bright colours and subtle embroidery designs. It makes one look like a bride straight out of a Disney movie. Who wouldn't like to look like a Disney princess in a castle?
Unique Motif Embroidery Bridal Lehenga
Motifs are crafted separately on a pre-existing fabric. Usually, the material is relatively more solemn, like Raw-silk or Velvet, but like everything else in fashion, it is not something that's cast in stone.
Styling Tips For Motifs:
Motifs can be altered to match your fabric type and color. These motifs lend a 3D effect to your bridal lehenga that will give it an extra zing.
Gota Patti Bridal Lehenga
Gota Patti or Gota Kinari traces its origins from the Indian state of Rajasthan. This historical craft has always been popular with bridal designs ever since the Mughal period. Usually, Zardozi work is crafted on the fabric for a delicate and distinctive Gota style.
What Else Can Fit In The Gota Kinari Style?
Not only bridal lehengas and dresses but also jewellery, Potli bags, and juttis can also be embellished with Gota kinari work.
How To Recognize authentic Gota Kinari Work?
You can check on the authenticity of gota kinari work by checking the base of its delicate work. Its birthplace Rajasthan makes use of real gold or silver threads for weaving purposes. Although to make it budget-friendly, cheaper material like copper may also be used. Having said that, we would strongly advise against gota patti/kinari work that's made of faux Gota fabric with thick metallic paint for embroidery.
Ombre Bridal Lehenga
What Exactly Is An Ombre?
The word itself originates from the French word 'Ombrer,' which means 'To Shade.' As the name indicates, Omber is a dyeing technique in which colours transition from a light to dark shade. Whether you prefer to wear dark colours or lighter tones, this gradient style is an all in one package for you.
Ombre Bridal Lehenga For The Mehendi Bride
Check out this vibrant Ombre Lehenga for the Mehendi bride.
Brocade Bridal Lehenga
Brocade fabric is attaining popularity with millennial bride tribes lately. Its opulent demeanour makes it a show stopper.
But What Is A Brocade?
Brocades comprise a jacquard loom upon which an intricate pattern is woven rather than a print on the surface. This design is the most ancient in the entire list. It is thought to be inspired by the Syrian culture. (Insert images of Syrian Brocade 1, 2, 3)
The Brocade's Fabric Variety
The fabric is heavy and thick, woven with Gold, silver, or any colour on it. For a bridal lehenga choli, you can either choose a Silk Brocade fabric or a Zari Brocade fabric. However, Brocade can also be designed on Cotton fabrics. (Insert Image of brocade bridal lehenga)
The Brocade Bridal Saree
You can also opt for a brocade saree instead of a bridal lehenga and look equally awe inspiring. We recommend you choose one that suits your body shape the most.
Net Bridal Lehenga
Net Bridal Lehenga is one of the most in-demand bridal lehenga. It looks absolutely gorgeous and makes the bride look like a fairy. Besides, cameras can't capture the net, which gives it a translucent look in photographs. Net fabric is very light and easy to carry. Even a simple net fabric with self colour lining can be refreshing and modern to look at.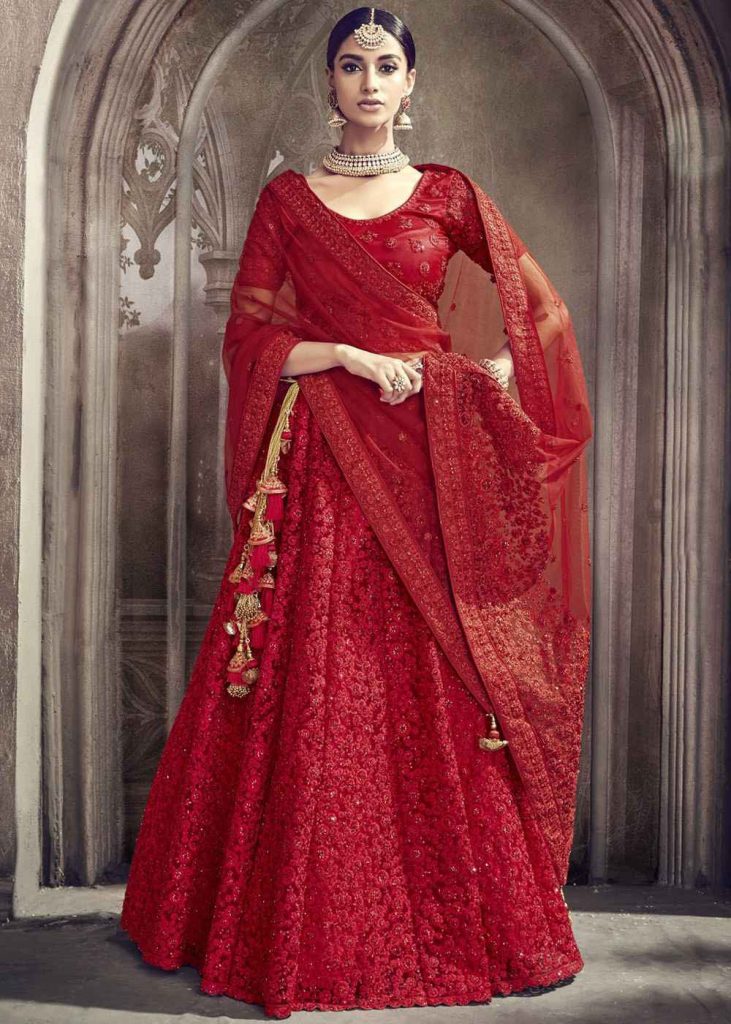 Tissue Bridal Lehenga
Tissue lehengas are reminiscent of a bygone era. Endorsed by Mughals, Rajputs, Rajas, and Nawabs alike, Tissue bridal lehengas have the potential to make you look like a jaw dropping princess.
Why Do Brides Prefer Tissue Lehenga?
Of late, tissue lehengas are being increasingly worn owing to its elegance, light weight, and flare-y properties. Because it doesn't fall exactly under the category of cultural apparel, it is a preferable choice for brides who want a sleek and modern look.
Double Border Bridal Lehenga
From all the bridal lehengas that we've covered so far, this one seems to be the least trending. However, if you want to wear something refreshing and unique, the double border bridal lehenga is something you should definitely consider. The fabric can be silk, chiffon, velvet, or even cotton. The addition of an extra border makes for a unique, sizzling appearance.
The Wrap-Up
The colour and fabric of any attire can potentially make-or-break the overall look of your wedding dress. Should you choose light-toned pinks, pastel colours or bold, dark colours? The choice should be made by considering your skin colour and the occasion. After all, your wedding lehenga is going to be the single most photographed piece of clothing in your entire life. So choose carefully and think creatively 😉
Want a personalized expert opinion? Get in touch with us via email or call us.
Good Luck with your big day!